Technology is changing the world, and is also changing the way we play golf.
From golf clubs being made with Artificial Intelligence to apps that help us on the course, technology has become embedded in this traditional game.
Technology will always be used to lower scores and get a leg up on the competition. With that being said, most technology is just bettering existing methods already in place.
We have detailed the best apps that will better your golf game and make golfing with friends more enjoyable.
Check out our list of the 10 best golf apps that will make golfing more fun.
Arccos Caddie is one of the best overall golf apps you can download. Arccos intertwines a great app with amazing sensor technology, seamlessly installed on your clubs.
Obviously, we all wish we had a personal caddie who followed us around and knew every intricate detail of our golf game. Unfortunately, most of us don't have that kind of cash.
Like a top-of-the-line club carrier, Arccos Caddie app keeps the average distances for every club. No more questioning what club you should hit, get a definitive answer from Arccos.
With hands-free, automatic shot tracking, you don't have to mess with it after every shot. Arccos automatically tracks shots and distances.
Arccos will get to know the ins and outs of your game and will give strategy suggestion for every hole based on your typical shots and play. Pretty cool, huh?
Another great feature is the,"plays like distances" feature, which gives you rangefinder distances that factor in wind speed and slope as well to give you the exact distance!
Using this app will provide you with a PGA caliber caddie at a Bushwood price (reference to Caddy Shack, if we're not on the same page).
With this app and sensor combo, it's best to spend the money upfront for a full integration instead of returning to the well each time you wish for more functionality.
Check out everything they offer, here.
The Zepp Golf app is another app-sensor crossover that gives tour like statistics and to help improve your game.
The Arccos app may be designed to be your caddie, but the Zepp app is designed to be your swing coach.
The technology deployed in the Zepp app will give you tips and tell you what you need to improve on in just a few swings. With the personalized training programs, you will get better without having to spend thousands in lessons.
Simply attach the sensor to your golf glove, and your 3D swing analysis can be viewed immediately on your phone.
What comes with the Zepp sensor?
A 3D swing analysis with the smart coach training system to improve your game. Digital coaching from top coaches around the country and videos from top tour players.
You can easily put together videos of your swing with ball tracer technology to feel like a pro.
Check out more on Zepp, here.
Golfshot is a mighty app that packs a huge punch.
Some of the main features include:
→ Tee time booking
→ 360-degree view of each hole
→ 500,000 pin locations throughout the world
→ Course flyovers
→ Distances to greens, hazards, and targets on over 45,000 courses
→ Shot tracking
→ Foursome scoring
→ Handicap tracking
The Golfshot app has a free and a pro version to the app. The free version has many of the core features, but definitely will leave you wanting an upgrade.
For an avid golfer, the pro version is a great app. Especially, if tracking your handicap is important.
For the casual golfer, the free app has more than enough features to keep you happy.
Learn more about Golfshot, here.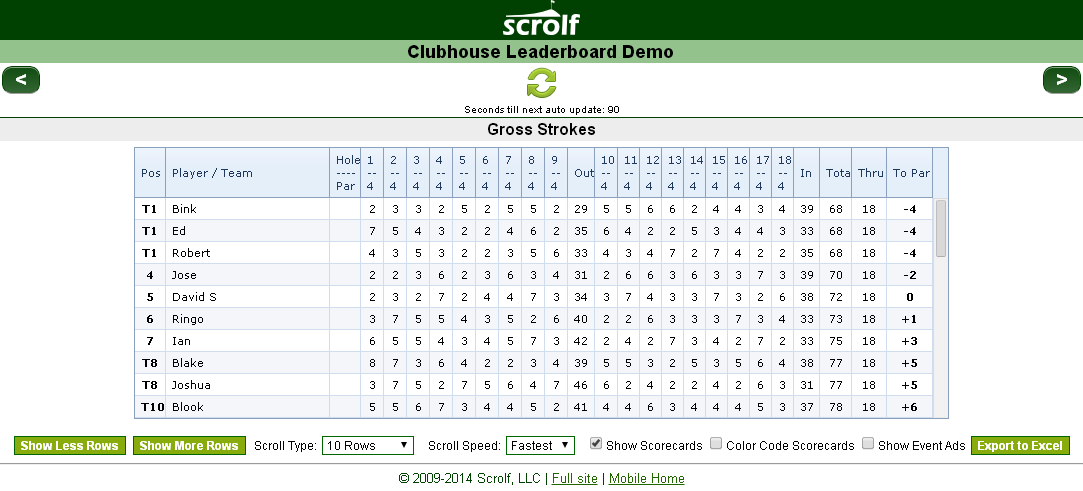 Scrolf is the ultimate group-golf scoreboard.
With Scrolf, every player in the field can see how they stand against the competition.
Updated in real-time, Scrolf offers an unparalleled scoreboard and can make any tournament feel like a PGA event.
Scrolf is cheap, too.
With plans for small groups starting at $1 per player, it's hard to beat Scrolf's next-to-nothing pricing.
The Scrolf app is web-based and does not need to be downloaded. Features include:
→ Real-time scoring
→ 6 different formats
→ Simple setup
→ Can be used at any course
→ Pin entry for streamlined starts
Scrolf's real-time leaderboard is hard to beat. For more information, check out Scrolf's site, here.
Ever wonder what it's like to have your shots traced, just like the pros?
With the shot tracer app you can.
The shot tracer app can do more than just trace the flight of your ball. You can have fun by adding the special effects that come with the app or utilize its additional features.
Other features include:
→ See actual distances with the GPS
→ Scoring with the digital scorecard
→ Fully customize the color and width of your shot tracer line
→ Add special effects to ball flight tracer
The shot tracer app is very inexpensive and is sure to make your next golf outing more fun. Check out more, here.
Ever wondered why the pros make so many putts?
Yes, they all have extremely consistent putting strokes, but a premier stroke is only valuable if the green has been read correctly.
Most of us average Joes struggle getting the correct read on every putt.
Luckily, GolfLogix has solved that problem for you.
GolfLogix new technology reads your putts for you and gives you the exact spot to start your putt.
It also displays 3D greens for approach shots to illustrate which way your ball will roll on the green.
Additionally, the app utilizes GPS tech for precise distances on every shot.
GolfLogix has over 35,000 courses mapped, it also features scoring for up to four players, tour level statistics and a handicap. \
See more on GolfLogix, here.
For all the golf gamblers out there, this is for you!
The Money Game Golf app was strictly made to keep track of all bets, so you don't have to worry about doing course math ever again.
Money Game Golgf can track bets in multiple formats like; Wolf, Skins, Nassau, Auto 2 Down, Flip, 9 Point, and 2-man Best Ball.
They also store your favorite game and past bets, so you can always go back and see how much money you won off your friends!
Check out more on Money Game Golf, here.
SwingU is an awesome free app that provides a ton of features!
SwingU also has a pro version with additional features, but from my experience, SwingU is one of the best free apps out there.
The free app includes:
→ GPS rangefinder with distances to the front, middle, and back of the green. Also, distances to every obstacle on the course as well (bunkers, hazards… etc.)
→ Track of your scores
→ Handicap tracking
→ Golf games that includes skins and stroke play
→ Daily instruction tips from top-100 instructors in the game
Once again, this is one of the best functioning golf apps you will get for free, and the pro version of this app will give you even more!
Learn more about SwingU, here.
TheGrint golf app is one of the best apps for tracking your handicap available.
This free app provides you with an official handicap from USGA registered clubs. This handicap is also allowed in USGA sanctioned events!
The app also has a GPS feature giving distances and a bird's eye view of the hole you're playing.
Grint users can easily upload your scores after the round, or they can do it as they play. An awesome feature is the ability to take a picture of your paper scorecard and it will transfer your score to the app!
You can also keep tour like stats like GIR% and FIR%, scrambling, and more.
TheGrint website also has a fantastic display where you can see all your stats in an extremely user friendly view.
TheGrint is one of the most simple and effective golf apps you can get, and the best part is, it's free! Learn more, here.
With over 42,000 golf courses on this free app, you can book tee times practically anywhere.
The Hole19 golf app is more of a social app than most of the others, the active golf community is somewhere you can share your love for the game with others like you!
The app includes:
→ GPS rangefinder for distances to the front, back, and center of the green and all hazards on over 40,000 courses worldwide.
→ Tee time booking with reviews and ratings
→ Stat tracking. See driving accuracy, GIR% and more.
→ Digital scorecard to keep your score and save all your shots.
Hole19 also has a premium app with even more features like club-recommendations and match play tracking for games against your friends.
Learn more about Hole19, here.
Summing Up
There are a ton of great apps out there that can enhance both your skill level and the amount of fun you have on the course.
Yes, golf is an age old game, but technology can make it even better.
Before your next trip to the links, check out a couple of these apps and give them a try!